Break down your work topics into small, easily manageable items
Organize the items in the form of trees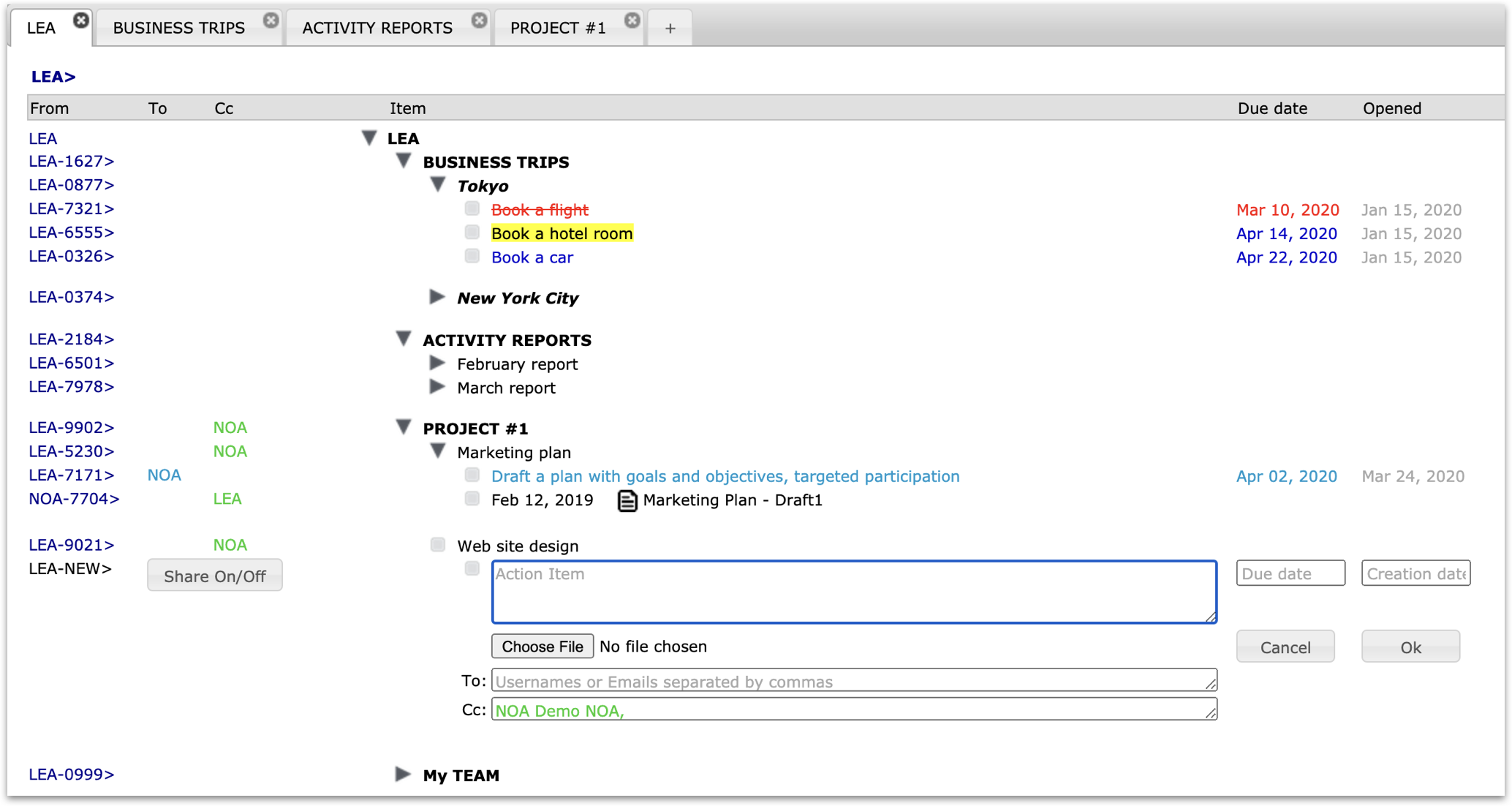 Collaborate
Share your map with other users, item by item. Choose which items to share and with whom to share them. You can keep items as personal items, or you can share certain items with users and share other items with other users.
Filnote adds the shared items in the right place on the user maps and marks them as unread.
Together:
Complete maps over time with the new information available
Correct, improve maps by exchanging questions and answers within the maps
Manage action items
Add action items to your map.
Filnote extracts them and generates To-do lists in the form of maps of action items presented in context with related items (parent and child items). This allows action items to be written in a simple and short way without repeating the informative context.
Generate action maps by due dates or by age.
Record timelines
Time stamp items to create timelines. Filnote automatically sorts them in chronological order on your map.
With timelines:
Record meeting decisions
Follow the progress of tasks
Manage document versions
Create reports
Manage documents
Attach files to items:
An item provides more information than a file name
An item can be time stamped
Files are available on your map.
Work in a meeting
Switch to Meeting Mode to work on your map on screen. Your map is reduced to items shared with meeting participants only. Participants do not see your other items.


Planning / Project Management

Information Base Management
Organization of Personal Work
Quick, easy access to information at the right level of detail
One place for all your items: shared items and personal items
Efficient management of action items
Time-stamped items automatically arranged in chronological order on your map
Your map is safe and available anywhere
Unlimited number of branches and child branches on your map
Navigation optimized for large maps of thousands of items
Item by item map sharing
Handshaking with other users before sharing items
Email notification of new shared items
Extractions in the form of maps
Extraction of unread shared items
Extraction of action items by due dates / by age
Printing
Meeting mode