A COLLABORATIVE WORKSHEET
TO PROCESS INFORMATION EFFICIENTLY
Unique mix
of word processor + spreadsheet + file manager + email

New 

You lead a team or a working group
Use the worksheet to conduct your meetings and work in groups :
During the meeting, record decisions, progress, new action points, etc…
At the end of the meeting print the worksheet to create minutes
Between meetings, everyone can share progress, files, and new information for the next meeting
The worksheet serves as on-going agenda, as meeting minutes, provides file sharing and action point tracking

You manage projects
Use the worksheet to:
Describe plans and tasks
Share documents with participants
Extract tasks by date / priorities
Record progress in completing tasks
Record decisions made at follow-up meeting
Print monitoring reports
Agility, speed and ease

You do customer follow-up, supplier follow-up, monitoring (technological, market, etc.)
Use the worksheet to:
Build a monitoring plan (radar)
Record information on the fly on the subjects to monitor
Manage follow-up actions
Print monitoring reports
The worksheet is your memory. Pick up threads at a glance

You send regular activity reports to your management or to your customers
Use the worksheet for:
Record your actions carried out on the fly
Print your report at the end of the month or at the end of the week
Automatic report layout

You receive many emails with non-immediate actions to do
Use the worksheet for:
Create tasks corresponding to emails as they arise
Extract tasks by date / priorities to organize your work
A lighter email inbox
100% VISUAL
The information is stored in notes
A worksheet consists of notes arranged in the form of a tree
Full page editor
Worksheet notes can be rearranged as needed
Your worksheet can become large over time. Expand-collapse buttons, a navigation bar and the ability to create tabs ensure easy navigation and an ergonomic display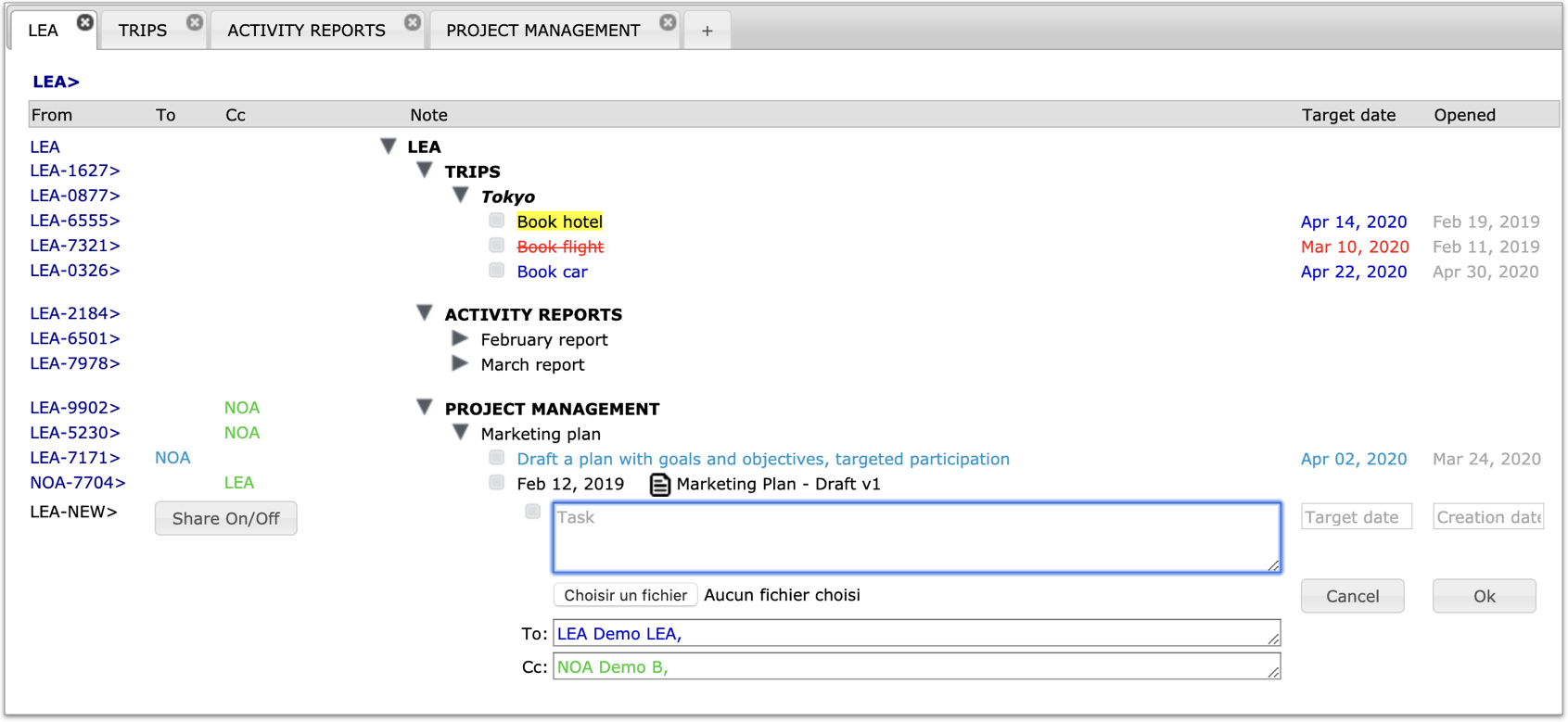 100% FLEXIBLE
Three types of notes, infinitely combinable, allows you create a worksheet tailored to your needs:
Tools are available to extract lists of tasks to be carried out from your worksheet
Dated notes are automatically displayed in chronological order in your worksheet
Files can be attached to notes to enrich your worksheet
100% COLLABORATIVE
Choose to share each note independently with other users like an email (for each note choose who is in Cc)
Your shared notes are added to the worksheets of other users who have previously authorized you to do so
Choose the users who are allowed to add notes to your worksheet
Users are alerted by email of notes added to their worksheets. The added notes are identified and marked unread in their worksheets
New  

Switch to Meeting Mode to work only with your notes shared with meeting participants without showing your other notes
100% DYNAMIC
Highlight notes to indicate priority
Use the tools to extract from your worksheet to-do lists, sorted by date, by priority or by age
Track the progress of tasks using dated notes
Strike out tasks to indicate that they are completed
100% PRODUCTIVE
Display the part of the worksheet to be printed
Select the columns to print
Print your worksheet
Send your reports
Who are we?
We are a team of consultants who work worldwide. We have designed this tool to increase our efficiency, facilitate and improve the quality of our work. Having very different personal profiles we have devoted a lot of resources to designing a free, flexible and versatile tool suited to our different ways of working. We wish you a pleasant and enriching use.
&nbsp